A storm door is a great way to showcase your entryway, add maximum light into your home and enhance curb appeal. Most storm doors come with different color options, low-E glass options as well as decorative glass and hardware. Some storm door models offer enhanced security features to add to the overall protection of your entry system.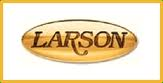 For over 50 years, LARSON has brought innovations, value and quality to the storm door business. It's what we do. We've compromised nothing and built craftsmanship into every detail of our product. We build storm doors that last. They are durable, energy efficient, stylish, innovative and most importantly a great value to you and your family. Whether you want to showcase your entry, seal a draft, let light in, or ventilate, LARSON storm doors can help you add value to your home.

Andersen offers a full line of storm doors for your home. Choose from over 30 storm door styles featuring a vast selection of glass, ventilation, color and hardware options. Our innovative features make our storm doors easy-to-use, secure and durable. Features vary by product.
Add Beauty and Ventilation While Improving the Energy Efficiency of Your Entranceway. See our website for more details.
No matter what arch type you have we have a storm door that will match it exactly. We are a dealer and installer for Arch Angle products. Arch Angle all aluminum storm products are individually hand crafted to complement the historic requirements or distinctive architecture of the homes, churches and commercial buildings they protect. While statements of beauty in their own right, many are designed primarily for the preservation of the larger investment of rare wood entry doors or leaded, restoration or antique stained glass. Fine quality complements fine architecture. And Arch Angle takes great pride in seeing that each product, heated and hand crafted is made to exact specifications to fit each individual architectural requirement.