Roof Snow Guards & De-icing Cables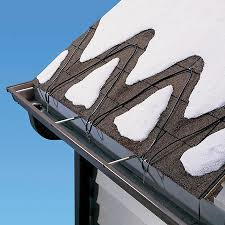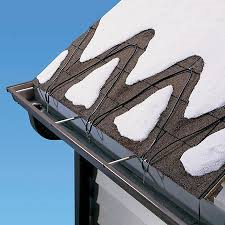 EVERY WINTER YOU HAVE THE SAME PROBLEMS:
Your gutters get filled with ice and snow and don't flow properly
You get ice dams on your roof and icicles that hang and fall creating a dangerous situation
The snow slides off the roof where you may be walking or parking causing damage and putting you and others at risk.
WE HAVE A FEW SIMPLE SOLUTIONS TO MAKE THESE ISSUES A PROBLEM OF THE PAST
SNOW GUARDS
We offer an extensive selection of snow guards which come in many shapes styles and colors. We work with you and the manufacturer to design a system specifically for your home's needs. No matter if it is a residential home or a commercial building we have the exact product that you need. All our products have one goal in mind and that is to reduce large sheets of snow and ice from avalanching off a roof and causing damage to property and pedestrians.
Features & benefits
Help avoid costly insurance claims do to avalanching snow and ice
Help prevent ice damming at roof's edge
Help prevent damage to gutters
There are two main styles of snow guards
The rail system is the strongest system and holds the most snow. It can be installed on metal or slate roofs. They typically consist of 1 or 2 continuous bars that run the entire width of the roof so that no snow can pass between them. The idea here is to hold the snow in place and allow it to melt vs having it break off in small pieces. This system is incredibly strong and durable.
The second system is commonly referred to as "snow guards" meaning small fins scattered along the roof that act as little grippers or cleats for the snow to hold onto. It can be installed on metal, slate or shingle roofs. They typically consist of several rows of staggered guards. The idea here is to hold the snow in place and allowing it to melt and break off in small pieces rather than big chunks. This system is comprised on many small "snow guards" that independently work to hold back the roof's snow and ice. This system is very effective when designed properly and is less noticeable on your roof compared to rail systems.
ROOF & GUTTER DE-ICING CABLES
De-icing cables Help prevent roof damage by keeping gutters and downspouts flowing even in frigid below zero temperatures. They are made of a coated wire that heats up enough to radiate heat to melt snow and ice around it. It is powered by electricity and can be connected to an electrical outlet near the roof line or can plug into an extension cord on the ground. Some houses have a switch to control them, if not we can install one. Our De-icing cables come with an automatic controller that will only turn on if the temperature drops below a set temperature. De-icing cables are a quick and effective way to deal with ice damming without the cost of upgrading attic insulation.
****for more information about a permanent ice damming solution see our attic insulation